If you are on Pintrest especially in early April and October, there are countless quotes from
General Conference
. One that stood out to me was by Sister Neill F. Marriot.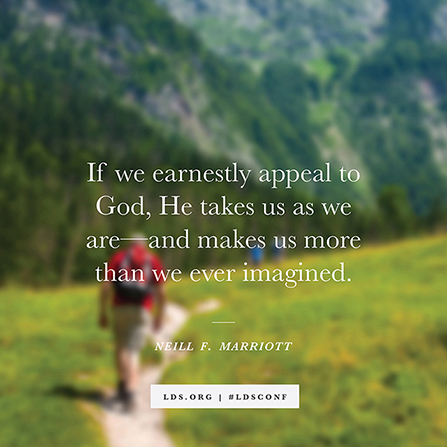 I love this quote, but I felt like the background was lacking. It's rather placid and I just don't think it fits. So, I started thinking about what would fit better. My thoughts ended up on the old Provo Tabernacle.
I don't really remember it from the various visits to Utah growing up, but I remember five years ago when it caught on fire. Before the fire, it was a useful building. It was used for community events as well as for Stake Conferences. It was shocking when it burned.
For about a year, no one was sure what would come of the shell of the building. Then it was announced that it would be transformed into a temple.
There are times when our lives burn into ashes and all that is left is a shell of the vision we had of the future. It takes time, but our life can truly be "more than we ever imagined."
"If we earnestly appeal to God, He takes us as we are—and makes us more than we ever imagined." —Sister Neill F.
Marriott